Marouflé Easy-line
The Marouflé Easy line consists cleaned 9mm MDF and is plastered with L-66 canvas.
The back is transparant varnished.
The linen has been treated extra with the known process of MusPaneel Art, but the tone of the linen remained visable. (Structure of the linen is more visable than with Marouflé Prestige, there are less layers on top of the linen)
All types of paints can be applied even airbrush (except Watercolour).
Made of 1st choice 9mm MDF board material certified under the FSC label. Here you can order all your Marouflé Easy-line panels.
How?
You can order your panels in each size but with a maximum size of 70 x 120 cm.
Round up the the desired dimensions (e.g. 48,5 x 58,7 cm >> you order 50 x 60 cm )

Go to this (rounded up) size and click "order".

In the shopping chard you'll find a comment box, please fill in the exact disired size.
Don't forget: look at our regular sizes, these regular sizes are available in profitable 4-packs!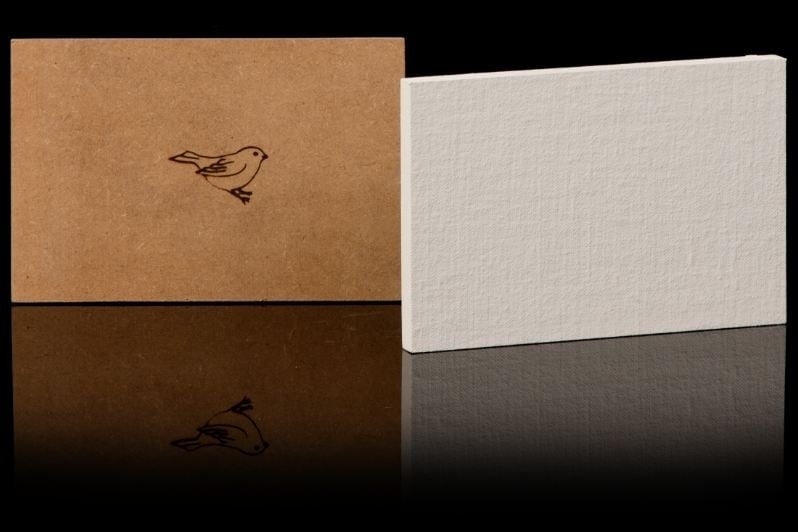 | item | price |   |
| --- | --- | --- |
| Marouflé Easy custom made maximum 10x10 cm | € 5,88 | More info |
| Marouflé Easy custom made maximum 10x20 cm | € 7,95 | More info |
| Marouflé Easy custom made maximum 10x30 cm | € 9,95 | More info |
| Marouflé Easy custom made maximum 10x40 cm | € 11,95 | More info |
| Marouflé Easy custom made maximum 10x50 cm | € 13,95 | More info |
| Marouflé Easy custom made maximum 10x60 cm | € 15,95 | More info |
| Marouflé Easy custom made maximum 10x70 cm | € 17,95 | More info |
| Marouflé Easy custom made maximum 10x80 cm | € 19,95 | More info |
| Marouflé Easy custom made maximum 10x90 cm | € 21,95 | More info |
| Marouflé Easy custom made maximum 10x100 cm | € 23,95 | More info |
| Marouflé Easy custom made maximum 10x110 cm | € 25,95 | More info |
| Marouflé Easy custom made maximum 10x120 cm | € 27,95 | More info |
| Marouflé Easy custom made maximum 20x20 cm | € 11,95 | More info |
| Marouflé Easy custom made maximum 20x30 cm | € 14,95 | More info |
| Marouflé Easy custom made maximum 20x40 cm | € 18,95 | More info |
| Marouflé Easy custom made maximum 20x50 cm | € 22,95 | More info |
| Marouflé Easy custom made maximum 20x60 cm | € 26,95 | More info |
| Marouflé Easy custom made maximum 20x70 cm | € 31,95 | More info |
| Marouflé Easy custom made maximum 20x80 cm | € 34,95 | More info |
| Marouflé Easy custom made maximum 20x90 cm | € 38,95 | More info |
| Marouflé Easy custom made maximum 20x100 cm | € 42,95 | More info |
| Marouflé Easy custom made maximum 20x110 cm | € 46,95 | More info |
| Marouflé Easy custom made maximum 20x120 cm | € 49,95 | More info |
| Marouflé Easy custom made maximum 30x30 cm | € 20,95 | More info |
| Marouflé Easy custom made maximum 30x40 cm | € 26,95 | More info |
| Marouflé Easy custom made maximum 30x50 cm | € 32,95 | More info |
| Marouflé Easy custom made maximum 30x60 cm | € 37,95 | More info |
| Marouflé Easy custom made maximum 30x70 cm | € 42,95 | More info |
| Marouflé Easy custom made maximum 30x80 cm | € 47,95 | More info |
| Marouflé Easy custom made maximum 30x90 cm | € 52,95 | More info |
| Marouflé Easy custom made maximum 30x100 cm | € 58,95 | More info |
| Marouflé Easy custom made maximum 30x110 cm | € 63,95 | More info |
| Marouflé Easy custom made maximum 30x120 cm | € 68,95 | More info |
| Marouflé Easy custom made maximum 40x40 cm | € 33,95 | More info |
| Marouflé Easy custom made maximum 40x50 cm | € 40,95 | More info |
| Marouflé Easy custom made maximum 40x60 cm | € 47,95 | More info |
| Marouflé Easy custom made maximum 40x70 cm | € 54,95 | More info |
| Marouflé Easy custom made maximum 40x80 cm | € 61,95 | More info |
| Marouflé Easy custom made maximum 40x90 cm | € 68,95 | More info |
| Marouflé Easy custom made maximum 40x100 cm | € 76,95 | More info |
| Marouflé Easy custom made maximum 40x110 cm | € 83,95 | More info |
| Marouflé Easy custom made maximum 40x120 cm | € 90,95 | More info |
| Marouflé Easy custom made maximum 50x50 cm | € 49,95 | More info |
| Marouflé Easy custom made maximum 50x60 cm | € 58,95 | More info |
| Marouflé Easy custom made maximum 50x70 cm | € 67,95 | More info |
| Marouflé Easy custom made maximum 50x80 cm | € 76,95 | More info |
| Marouflé Easy custom made maximum 50x90 cm | € 85,95 | More info |
| Marouflé Easy custom made maximum 50x100 cm | € 94,95 | More info |
| Marouflé Easy custom made maximum 50x110 cm | € 103,95 | More info |
| Marouflé Easy custom made maximum 50x120 cm | € 112,95 | More info |
| Marouflé Easy custom made maximum 70x70 cm | € 92,95 | More info |
| Marouflé Easy custom made maximum 70x80 cm | € 104,95 | More info |
| Marouflé Easy custom made maximum 70x90 cm | € 117,95 | More info |
| Marouflé Easy custom made maximum 70x100 cm | € 129,95 | More info |
| Marouflé Easy custom made maximum 70x110 cm | € 142,95 | More info |
| Marouflé Easy custom made maximum 70x120 cm | € 154,95 | More info |